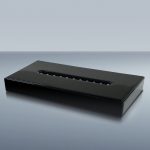 2D 3D Photo Crystal LED Base
Enhance the beauty and brilliance of your laser engraved picture in 2d or 3d crystal glass cube or other shape with this beautifully crafted, black piano finished and LED lighted wood display base. The LED crystal displays on the top of the base. A great way to exhibit any crystal, glass or acrylic piece that is 6-8 inches wide.
At Goodcount Awards, we offer personalized Engraved Photo Crystal Awards, Crystal Gifts, and Crystal Plaques for teachers and coaches, wedding and anniversary ceremonies, or more.