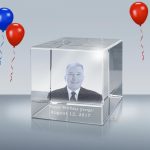 Picture Crystal Flat Cube - Design-A Wording Suggestions
Option 1:
Loving wishes for the most amazing Dad in the world!
Option 2: Thank you for the love and laughter,
the two best things you gave me.
Option 3: Happy Birthday
(insert name here)
You Can Also Write Your Own Words!